It's an age-old dilemma. You and the kids have picked ten pounds of apples and right now they are sitting on your kitchen counter looking a lot like this:
Sure, you could leave them there as a lovely centerpiece. Or you could get cookin'!
Here are a few ideas for ways to transform your fruity loot into some wonderful mealtime treasures.
From Shawna's Kitchen:
If you've followed this blog for even a fraction of a second, you've probably noticed that I talk about cooking A LOT. So, given that we've just sent you on a whirlwind tour of some of our state's best orchards, what better way to share my love of cuisine than with a few of my most beloved apple recipes. Plus, let's face it. When it comes to apple picking, it's all fun and games until you realize that now you actually have to eat all those apples…
Squash Apple Turnovers (Cooking Light 2010)
These lovely little hot pockets are one of my favorite ways to dispose of, er, I mean, use up my leftover orchard apples. The recipe calls for Jonagold apples, but I have used other varieties (Cortland for one) and had equally splendid results. While the fun hand pies may be perfect for your older kids, my toddler adores eating the filling solo. The tiny bites of cooked apples and squash are just the right size for little hands to pick up. This works out perfectly because the recipe always seems to generate more filling than I need. After forming the pockets, I just turn the heat back on the skillet and let the remaining filling soften for a few more minutes.
I use a mild, sweet onion, and Boo loves it. But you could just as easily omit that ingredient and the filling would still be soft and sweet with a little creamy tang from the goat cheese. And sometimes I just use crescent rolls for the dough. They already come in cute little triangle shapes that are easy to press together around a nice heap of squash and apple filling. No rolling pin required!
No Cook Applesauce
Yup. You read that right. For this delicious twist on a classic apple favorite, there's no need to get out your pots or your peeler. This recipe is from Boo's great-grandmother, and you know it's got to be good if it's lasted through three generations.
INGREDIENTS:
4 apples (I like to use Macoun, but with a recipe this easy you can experiment until you find your favorite)
1/4 cup orange juice
1/4 cup sugar
1/8 tsp cinnamon
DIRECTIONS:
Slice each UNPEELED apple into 8 pieces. Soak apples in a bowl of salted water for 10 minutes. Pour 1/4 cup of orange juice into the bowl of a food processor fitted with a steel blade. With the food processor running, drop the apple slices through the food chute one at a time. (This is a great activity to assign to your older children.) Add 1/4 cup of sugar and process until smooth. Add 1/8 tsp of cinnamon (or to taste). Recipe can be doubled. After being refrigerated, this applesauce will develop a beautiful caramel hue.
From Mandy's kitchen:
Shawna asked me if I had any apple recipes that I would want to share as part of her post. I offered up my mom's apple cake recipe which is listed below.
I really have no idea where she got this recipe.  She probably clipped it from one of her many Southern Living magazines, but it is a recipe she would make every year in the fall.  I told Shawna that I needed to test the recipe before we posted it, because (1) I
haven't made it in a while and (2) my mom was infamous for forgetting to write down all the ingredients.  Her friends would jokingly say that she would leave something out so they couldn't make the recipe as well as she did!  She was an amazing baker and when she would make this apple cake in the fall, the whole house would smell of yummy apple deliciousness.
You may notice that I am speaking in the past tense when discussing my mom.  That is because she passed away 10 years ago from Ovarian Cancer.  I, along with all her family and friends, continue to miss her every day.  Fortunately, she left behind some treasures for us to remember her by.  For me, this recipe is one of those treasures.  I
think about her every time I make it.  I hope you will make it for your family and enjoy.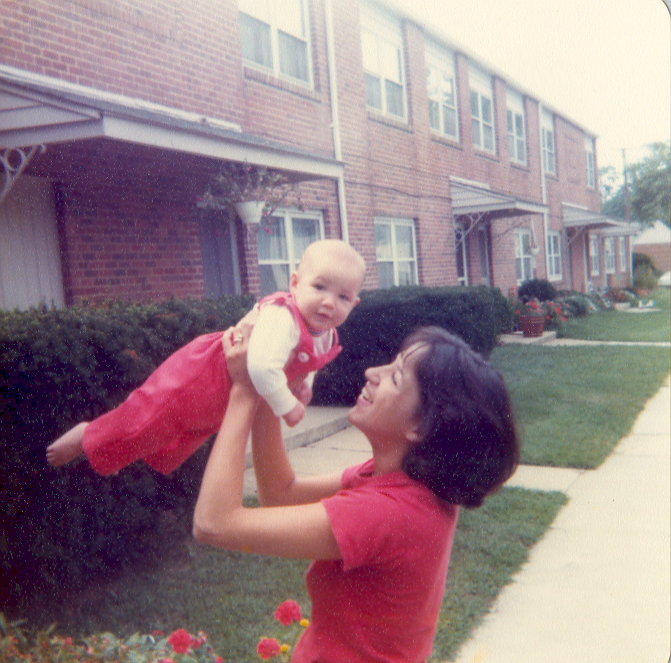 ABOVE: Baby Mandy and her mom, Karen.
Karen's Apple Cake
INGREDIENTS:
2 cups sugar
1 cup vegetable oil
4 eggs
3 cups flour
3 rounded teaspoons baking powder
2 teaspoons vanilla extract
2 teaspoons lemon extract
5 apples peeled and sliced
Cinnamon
Brown sugar
Butter
INSTRUCTIONS:
Mix oil & sugar
Add eggs and beat thoroughly
Blend in flour and baking powder
Add extract
Pour ½ of batter in greased tube pan
Layer ½ sliced apples
Sprinkle brown sugar and cinnamon
Add remaining batter
Add remaining apples
Sprinkle brown sugar and cinnamon
Dot with butter
Bake at 325° for 1 ½ hours
Dig in!
MORE IDEAS:
For dozens more tips, ideas, and recipes for enjoying popular apple varieties, visit www.allrecipes.com. HINT: click before you pick to make sure you bring home the right apples for all your recipes.
COMING UP:
Join us early next week for a visit to the Emerald City of home furnishings stores. Then later, we'll furnish you with ideas for extending your shopping spree into a family-friendly day trip. Until then, have a great weekend!